Tech
Why will Bitcoin replace credit cards? Analysis of the reasons for Bitcoin replacing credit card
Why will Bitcoin replace credit cards? Today, Bitcoin is rapidly becoming an accepted trading method. Big companies such as online retailer Overstock.com and mobile provider AT&T have allowed customers to pay in Bitcoin. The list of enterprises accepting Bitcoin is increasing every day. On the basic level, this trend proves that Bitcoin is not a useless virtual currency as critics like to claim, but it also represents something more basic: Bitcoin may replace traditional payment processing systems such as Visa and MasterCard. This may sound far-fetched, but Bitcoin provides many advantages for consumers and businesses. Moreover, if you understand the creative destruction inherent in capitalist society, it is only a matter of time before Bitcoin replaces credit cards. Before emphasizing the difference between the two, let's first understand the structure of credit card and Bitcoin payment.
How does credit card payment work?
When you use credit cards to pay for products at the point of sale, the money will not be transferred directly to the merchant as you think. The actual process is a dance involving you (cardholder), your bank, credit card network, merchant bank and merchant.
Here is an example to illustrate:
Imagine that you (cardholder) paid for a pair of sneakers with your Visa card at the store in downtown Bob. In essence, you authorize Bob (merchant) to "withdraw" payment from your account. However, this amount must go through several intermediaries before Bob can get it.
First, the credit card network (Visa) forwards the payment request to your bank. Then your bank authorizes Visa's request to transfer money from your account to Bob's bank. The last step involves Bob's bank accepting payment and depositing the money into Bob's account.
From this figure, you can see that Visa is only a participant in the payment network. It only promotes the interaction between different parties in the ecosystem. This is an important fact that many people tend to ignore, especially when comparing Bitcoin with credit cards.
How does Bitcoin payment work?
To pay in Bitcoin, you can transfer coins from your wallet to the payee's address by signing the transaction with your private key. Payments are recorded on the Bitcoin blockchain, similar to the ledger used to record transactions. The difference is that this ledger is public and entries cannot be modified or deleted.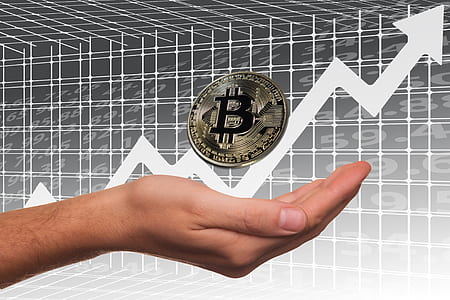 Compared with your credit card, Bitcoin will "push" the payment directly to the merchant. No third party is involved in processing transactions, which is why Bitcoin is described in the white paper as "peer-to-peer electronic cash system".
If we apply this concept to the previous example, you may see how different Bitcoin payment is.
If you want to pay Bob with Bitcoin, you only need a wallet with Bitcoin and Bob's public address on the blockchain. Then you transfer a specific number of bitcoins to Bob's address, and use the digital signature generated from your private key to authorize the transaction.
Once the miner confirms the payment, Bob will immediately receive the money in his wallet without going through the authorization, exchange and settlement process used in the credit card. Therefore, Bitcoin payment is like wire transfer - money is transferred directly from customers to buyers.
Now, let's take a closer look at how Bitcoin's features enable it to better handle transactions.
Why should Bitcoin replace credit cards?
speed
When comparing Bitcoin with credit card, critics often emphasize the difference in processing speed between the two systems. For example, Visa processes 24000 transactions per second (TPS) compared with 5 to 7 TPSs of Bitcoin.
However, this comparison leaves out many key details. Swiping the credit card will not automatically deposit the money into the merchant account. Instead, credit card companies need several days to authorize and clear payments.
Bitcoin is designed as an independent bank and payment network. If you use Bitcoin to pay, you only need to transfer coins from one address on the blockchain to another. This process is completed in 10 minutes or less and provides transaction finality, which is different from your credit card payment.
In addition, Layer 2 solutions such as Lightning Network can expand the speed of Bitcoin to match the fastest payment system. Lightning network offloads transactions from the main chain, reducing transaction confirmation time and improving network throughput. Although the adoption of Lightning Network is still growing, it may overturn the Visa and MasterCard in the future.
security
Like credit card payment, the disadvantage of relying on multiple parties is that it increases the risk of malicious attacks. When you enter the credit card details on the e-commerce website, you authorize it to deduct money from your account. If the enterprise is trustworthy, this is not a problem, but what happens when unscrupulous hackers steal the information?
Large enterprises including Equifax, Neiman Marcus, Target and Marriott Hotels have become victims of targeted attacks aimed at stealing customer credit card information. These thefts usually put customers at risk because hackers can use the stolen bank card details to complete unauthorized purchases.
The security risk of credit card details also extends to physical purchases. Card thieves are notorious for stealing credit card information from point-of-sale devices, such as self-service gas dispensers or cash registers in retail stores. They can use this information to consume your account in a few minutes. Apart from the amount and the address of the payee, Bitcoin does not need any other information to process the payment. You only need to use the private key to authorize the transaction and store it safely in your wallet.
Hackers need to destroy your device or use social engineering technologies such as phishing to steal your key and initiate Bitcoin payment. However, these problems can be easily avoided by paying attention to fake websites, securely storing keys or using multi-signature wallets.
Business owners can also benefit from Bitcoin's secure network. The irreversible nature of Bitcoin payment can prevent the fraud of non-payment, that is, the buyer cancels the payment after receiving the goods. Enterprises will not have to undertake the task of protecting sensitive credit card information, thus eliminating the need to take costly payment card industry compliance measures.
Reduce transaction costs
The credit card supplier charges a fee for processing the payment, up to 3% of the original purchase amount. Because of the low profit margin of some businesses, they often have no choice but to pass on these costs to shoppers.
Bitcoin is not cheap; Transaction costs may soar, but Layer 2 solutions like Lightning Network can solve this problem. The average cost of processing a transaction on the Lightning Network is 1 Cong, equivalent to 0.0000001 BTC or 0.0004 US dollars. With such low costs, it is easy to understand why enterprises are keen to integrate the Bitcoin payment supported by Lightning Network into their revenue model.
The low transaction cost benefits both enterprises and shoppers. Business owners will not erode their profit margin because of charges, while customers can pay for products without bearing additional costs. If this sounds like a win-win solution, you will begin to see the real value of Bitcoin.
Reduce paperwork
You can't waltz into a bank and say, "Hey, can I get a credit card?" and look forward to a magical appearance. No, Each bank you visit will allow you to complete the lengthy registration process before issuing the card. This process is the same or even longer for merchants who want to establish point-of-sale systems with credit card providers.
With Bitcoin, all you need to do is set up a wallet and generate your key to start receiving and sending payments. You can use many free bitcoin wallets as mobile applications, desktop software or network applications. Even for the most non-technical personnel, the registration process is usually simple enough.
The benefits of Bitcoin's simplicity may not be obvious, especially if you live in a western country with an orderly banking system. In developing countries, it is almost impossible for most people to create bank accounts or obtain credit cards, and Bitcoin's peer-to-peer cash system is a godsend.
Bitcoin can improve business by allowing individuals without bank accounts to pay for products with connected mobile devices. It can also make it easier for small businesses to establish payment channels without the usual paperwork.
Privacy and anonymity
According to the design, the Bitcoin transaction is anonymous: the blockchain only records the public address and transaction amount of each party. No one can know who you are or what you pay by looking for transactions on the blockchain.
Many people associate the anonymous transaction of Bitcoin with right-wing extremists, terrorists or other criminals who need to avoid traditional banks. However, even ordinary people who buy legal goods may not want to associate their identity with their purchase for different reasons.
For example, compared with credit cards, people who buy adult toys online prefer a more cautious way of purchase. In addition, it is well known that payment providers will prevent the purchase of products such as cannabis, although they are legal.
Even if you do not conduct confidential transactions, you should think twice when purchasing goods online. It is an open secret that credit card companies sell user data to advertisers and promote advertising positioning activities.
Every time you use your credit card to pay online, someone will use this data to advertise you. Ordered Dyson vacuum cleaner last night? You can expect some "vacuum cleaners that are most suitable for your home!" ads will pop up every time you open the page.
When you use Bitcoin to pay, the enterprise will not store your information, so you can shop at ease. They can't sell your data to advertisers, so your browser won't be full of intrusive advertising.
summary
Although Bitcoin has received many negative reports, its value as an efficient payment system cannot be denied. For enterprises, accepting Bitcoin payment means reducing transaction waiting time, reducing chargeback fraud and paying lower service charges. For buyers, Bitcoin provides a safe, private, fast and simple way to pay for products and services. With new improvements such as lightning network, the acceptance of Bitcoin payment will only continue to grow. Over time, Bitcoin may bring benefits to consumers and businesses, and end the monopoly of credit card suppliers.