Press Releases
What is Bitcoin ETF? What impact will Bitcoin ETF have?
In the currency circle, Bitcoin is a digital currency that investors are familiar with. So today, I want to talk about Bitcoin ETFs, which may be unfamiliar to some novice investors. Now, follow Xiao Bian to have a look.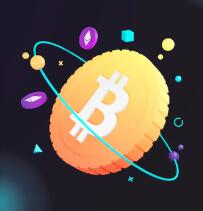 What is Bitcoin ETF?
ETF is the abbreviation of Exchange Traded Funds, and its Chinese name is "Exchange Traded Fund". It is an open-ended fund that is listed and traded on the exchange and has variable fund shares.
The simple explanation is that the index fund that can be traded on the exchange represents the ownership of a basket of securities. To popularize science, an index fund is a fund that purchases all or part of the securities in the financial market included in the index according to the specifications of the index composition, aiming to achieve the same income level as the index. ETF is a special type of index fund, which mainly includes stock ETF, bond ETF, product ETF and currency ETF.
Bitcoin is a virtual currency, so Bitcoin ETF is a monetary ETF. Like Bitcoin futures, it is an investment and financial product.
Compared with direct investment in Bitcoin futures, Bitcoin ETFs can not bring more interests to investors, but Bitcoin ETFs can provide investors with a more secure trading method, which is also conducive to improving everyone's confidence and attracting more investors and assets.
After several financial enterprises and exchanges announced the release of Bitcoin futures, many insiders are looking forward to the advent of Bitcoin ETFs. However, the review standard of ETFs will be stricter than that of futures. In 2017, the U.S. Securities and Exchange Commission (SEC) received several applications for listing Bitcoin ETFs, but most of them were denied, making it difficult to successfully list them.
You may have a question here. Are Bitcoin and Bitcoin ETFs the same? Isn't Bitcoin ETF still trading Bitcoin here? In fact, the only difference between the two is that you don't have to worry about the Bitcoin in your wallet being stolen by hackers or where your Bitcoin should be stored. This is a driving force at the technical level. After purchasing Bitcoin ETFs, we don't have to learn how to operate Bitcoin on computers anymore.
What is the impact of Bitcoin ETF?
1. It has reduced the investment threshold and attracted many retail investors. These retail investors generally refer to those who are interested in Bitcoin investment but are limited by computer technology.
2. It brings institutional investors a channel to invest in Bitcoin: it brings more inbound assets and will generate more derivative requirements.
For example, according to Bitcoin ETF, traditional fund companies can also indirectly own Bitcoin. When an investor buys a traditional fund, the fund manager of the fund can use some of the investor's assets to buy a small portion of Bitcoin ETFs. In this case, it is tantamount to enhancing the investment in Bitcoin.
3. If the ETF application is successful, it means that it is included in the control, its legitimacy and compliance have been officially recognized, and it also brings positive promotion to the development of Bitcoin and even cryptocurrency.
Speaking of this, I believe you have a certain understanding of what Bitcoin ETF is and what impact Bitcoin ETF will have. In general, Xiaobian also reminds investors that no matter what kind of digital currency you invest in, there are certain risks. Before investing, you must do a good job in risk investment, and don't blindly follow the crowd.