Policy
The cryptocurrency market will regain the market value of 800 billion dollars from 2023!
Cryptocurrency marketAt the end of 2022, it is in the integration stage. Since the major cryptocurrencies cannot take decisive action, investors are holding a wait-and-see attitude. However, the market is experiencing short-term buying pressure, leading to the recovery of key positions. In fact, as of January 2, 2023, the market value of global cryptocurrencies has returned to the level of 800 billion US dollars, reaching 807.17 billion US dollars, although this value is about 4.27 billion US dollars lower than the 811.16 billion US dollars on December 26. On the weekly chart, the market value hit the lowest point of 788.93 billion US dollars on December 30.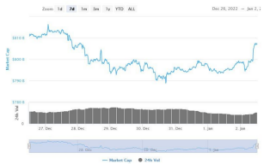 Seven day chart of global cryptocurrency market value.
It is worth mentioning that, boosted by the good news related to macro-economy, the encryption marketAt the end of 2022, the market value of USD 1 trillion was recovered temporarily. In addition, the crypto market is still dominated by leading assets such as Bitcoin (BTC) and Ethereum (ETH), two cryptocurrencies with large market capitalization. It is worth noting that as of the time of writing, Bitcoin's market share was 39.9%, while Ethereum's was 18.5%.  
Ethereum(ETH) also regained its position of $1200. As of the time of press release, the trading price was 1216, up about 1.64% in the past 24 hours. Although the market is still in the consolidation stage, other well-known cryptocurrencies that have recorded gains in the past 24 hours include XRP rising 1.5%, DOGE rising 3% and Cardano (ADA) rising 3%.  
Bitcoin rebounded slightly
After several days of horizontal transaction mode, Bitcoin is still trying to recover$17000. As of press time, the trading price of the flagship cryptocurrency was US $16730, up about 1% in the past 24 hours.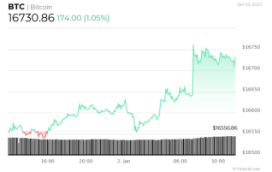 Single day price trend chart of Bitcoin.
Similarly, as ofOn January 2, the market value of Bitcoin reached 322.08 billion US dollars, and the purchase pressure also increased. In the past 24 hours, Bitcoin has attracted an inflow of $3.38 billion.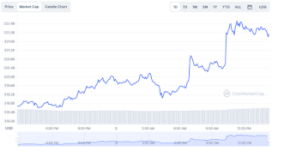 Chart of Bitcoin's one-day market value.
Bitcoin2023 Outlook
although2023 is still in its infancy, but many industries have different views on how the price trend of special currency will develop. In this regard, David Kemmerer, CEO of CoinLedger, an encryption tax software, predicts that Bitcoin may be further revised in the first half of this year.  
In contrast, anonymous cryptocurrency and stock market analystsTrend Rider pointed out that Bitcoin may be bullish in the first half of 2023. In addition, Stefan Ristic, a cryptocurrency miner who operates Bitcoin MiningSoftware.com, also believes that Bitcoin may be bearish in 2023, but he expects that the halving event next year will be a catalyst for the rebound in 2025.