News
Will the aggregation market become the first choice for purchasing NFT?
Although there are several NFT markets to choose from when purchasing digital assets, it is inefficient to constantly switch between them during trading. Another problem with decentralized markets is that when you buy gasoline from different markets, you have to pay more than once.
NFT aggregator allows people to buy a variety of NFTs in batches from various platforms, thereby saving fuel costs and improving efficiency. In addition, aggregators are still trying new patterns of NFT transactions, namely AMM market, mortgage and NFT tokenization. Will they be the first choice to buy NFT?
Early NFT market
From 2016 to 2018, the first NFT trading markets - open sea, MakersPlace and super ray - appeared. Since then, despite the existence of unstable trading systems, hacker attacks, and even user NFT asset theft scandals, OpenSea has still occupied more than 90% of the market share.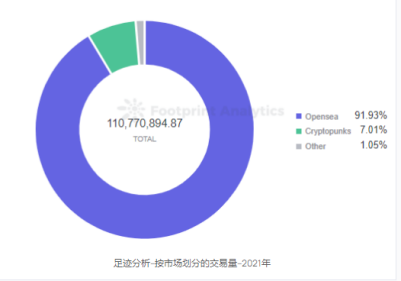 Footprint analysis – trading volume by market – 2021
At the beginning of 2022, X2Y2 and LooksRare began to challenge OpenSea with decentralization, lower costs and platform revenue sharing. This started to divide the NFT market.
However, these platforms are slow to solve the problem of bulk purchase, which is where NFT aggregation platforms gain a foothold.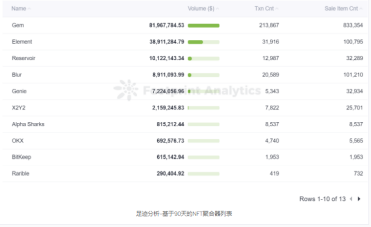 What problems does aggregation solve?
According to footprint analysis, the trading proportion of Ethereum based aggregation trading platforms (13 platforms) gradually increased from August to October, reaching a maximum of more than 18%, and then resumed normal trading. This shows that the NFT market has gradually entered the trend of collective trading.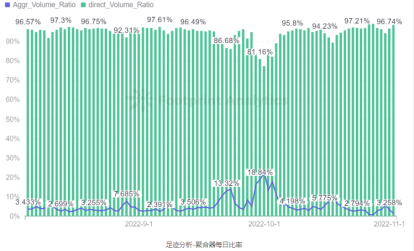 However, many developers began to seek value innovation, pursuing greater convenience and faster efficiency. There are clear boundaries between existing markets, and what types of services users need to create.
In turn, OpenSea upgraded its products and acquired competitors.
In April, OpenSea acquired the NFT aggregation protocol GEM.
In May this year, OpenSea allowed users to use other payment means other than cryptocurrency for NFT transactions.
In October, the company announced that it officially supported batch ordering and purchase functions. Users can now list and purchase up to 30 items in a single transaction on the platform.
It is expected to achieve comprehensive market improvement through various functions, low cost and time cost of searching NFTs. For example, Element aggregates the layout of all the most popular blockchains (Ethereum, BNB Chain, Polygon, Avalanche and Solana) to achieve cross chain transactions and expand the user base.
The emergence and development of various aggregate trading markets have reduced the cumbersome operation of one transaction for users, allowed users to list and purchase in batches, and reduced the transaction cost and time cost of searching NFT.
In short, OpenSea has almost monopolized NFT transactions in recent years. Although other markets have introduced competitive functions, it has become the preferred platform for buying and selling non functional transactions. However, NFT aggregators have emerged with unique patterns and solutions to industry problems.